Edward F. Murray papers — Recent Acquisition
By Amy FitzGerald, Processing Archivist
Through the help of a rare book dealer, a set of letters written by Edward Francis Murray, a Trinity College (Hartford) Class of 1918 student, to his high school sweetheart and future wife, Miss Mary Margaret "Mae" McGarry of Norwich, Connecticut, has arrived at the Watkinson Library. The collection consists of roughly 130 manuscript letters with original envelopes dating from 1917 to 1922, all but a few penned by Murray in a clear, cursive style. In late May 2023, processing archivist Amy FitzGerald organized the letters physically and intellectually and produced a word-searchable finding aid using ArchivesSpace, the open-access online tool that houses and presents descriptive data about the Watkinson's manuscript and archival collections.
Edward (Ed) Francis Murray was born on May 12, 1894 in Norwich, Connecticut. He attended Trinity College (Hartford) from 1914 until 1918, when he left in February of that year to report for training in the Aviation Section, U.S. Signal Corps during World War I. While at Trinity Murray was actively engaged as a student. He played both football and baseball. He served as class president, president of the Senate, and president of the Athletic Association. Murray was a member of the Medusa, the Sophomore Dance Club, and Delta Kappa Epsilon fraternity. After completion of his flight training course in Texas, he obtained his Bachelor of Science degree from Trinity in 1919. For her part, Mae McGarry was a graduate of the Norwich Free Academy and educated as a teacher at the Willimantic State Normal School. She joined the kindergarten movement and even may have paid membership dues to the International Kindergarten Union. She was reported to have served as a principal of a kindergarten in Norwich for four years between 1918 and 1922.1 Though this batch of letters only includes one brief letter written by Mae to Edward, inferences about her life and interests can be made from Edward's responses.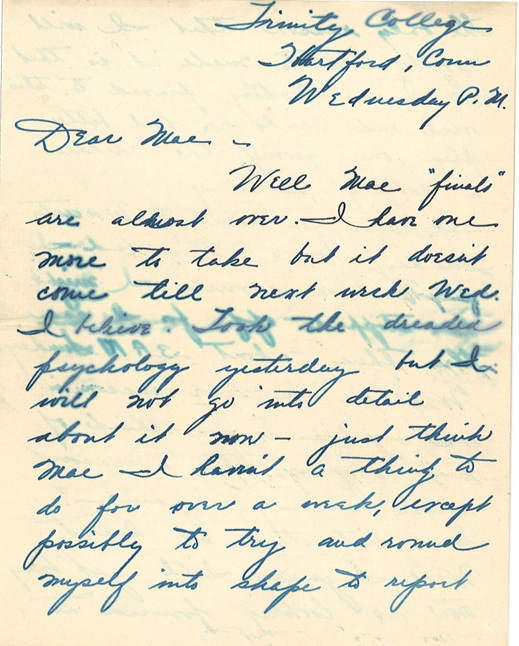 Murray's talent as a baseball player led him to a brief stint in the major leagues, having signed on with the American League's St. Louis Browns in the summer of 1917. After one game with one at-bat, he was sent to play in the minor leagues in Portland, Maine. While a few letters from 1917 describe some of Murray's time as a student at Trinity College, the majority are addressed from St. Louis, Missouri and from hotels in the Midwest region as he traveled playing baseball for the Browns, and later in Portland playing in the minor leagues. In one letter Murray makes a point to tell Mae that playing in the minor leagues does not have the same benefits of the majors, like having everything taken care of for him.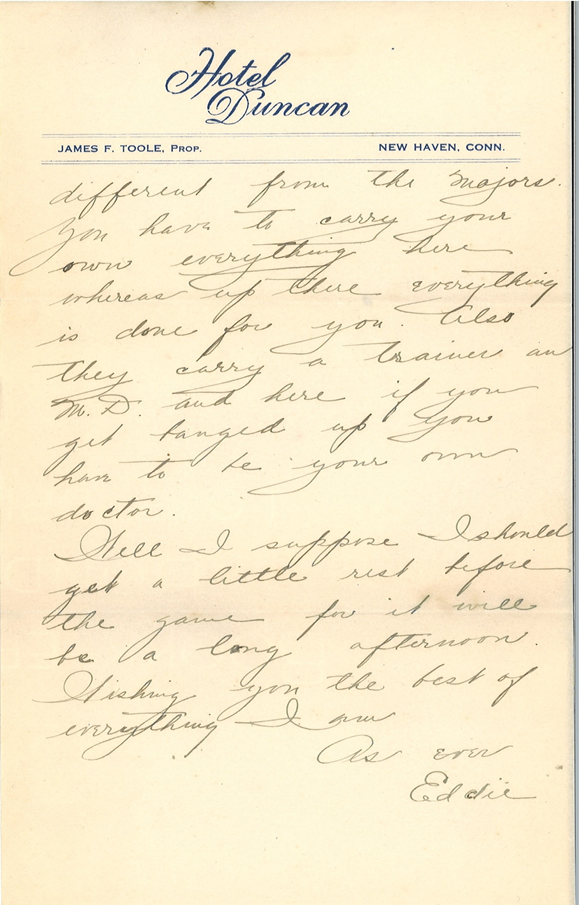 The letters from 1918 to 1919 describe Murray's military course work and training first in Princeton, New Jersey, at the U.S. Army School of Military Aeronautics, and then in Texas at Camp Dick in Dallas, and at Call Field in Wichita Falls. Occasionally, Murray would draw pictures of the types of planes he was learning to fly so that Mae would have a better understanding of what he was describing. In one of the letters Murray tells Mae of a crash landing and begs her not to worry, as he only had suffered a bloody nose and nothing more.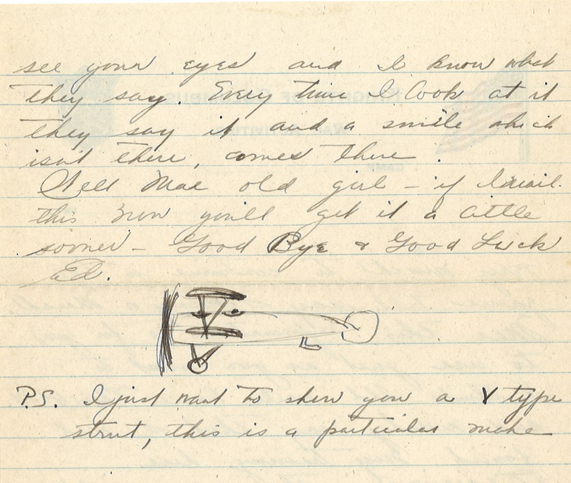 By 1920, having finished his military training and returned home to Connecticut, Murray was back on the baseball field, with letters sent to Miss McGarry mostly from New Haven but also from hotels on the circuit. This is the smallest grouping of letters, many written on plain notebook paper in pencil.
The largest grouping of letters is from 1921 and 1922, sent from Laramie and Cheyenne, Wyoming. While it is not completely evident from his letters what work Murray is undertaking at the beginning of his time in Wyoming, research conducted by the processing archivist revealed that Murray moved there to join his brother James (also a Trinity College graduate, baseball player, and pilot) who was working as a pilot flying the U.S. mail out of Cheyenne.2 Early letters are about playing baseball for the Laramie Baseball Club, and later ones tell of Murray trying to establish an insurance agency and the ups and downs that went with it, such as having enough money to rent office space and purchase office equipment. Interesting points in Murray's letters mention him having been coerced into singing in the church choir; playing two roles in a variety show; and his comings and goings with new friends. Murray tells Mae often how much he misses her and how he looks forward to bringing her out to Cheyenne in June to be with him.
Ed Murray remained in Cheyenne for the rest of his life, having successfully established himself in the insurance industry, ultimately becoming full owner of the oldest insurance agency in Wyoming. Murray and Mae McGarry were married in June 1922, after which the couple soon left for what may have been a honeymoon in Colorado and then on to Cheyenne.3 They had three sons who all worked with their father in the family insurance business. Ed Murray died at home in Cheyenne, Wyoming, on November 8, 1970.
Acquired in early 2023, the Edward F. Murray papers at the Watkinson Library are available for public use, research, and enjoyment during scheduled research appointments between the hours of 10 a.m.-12 p.m. and 1-4 p.m. on Tuesdays through Thursdays. Please contact College Archivist and Manuscript Librarian Eric Stoykovich (eric.stoykovich@trincoll.edu) for more information and to make an appointment to access collections in the Trinity College Archives.
Norwich Bulletin (Norwich, CT), June 22, 1922, p. 5. Courtesy of Newspapers.com. ↩︎
Norwich Bulletin (Norwich, CT), June 22, 1922, p. 5. Courtesy of Newspapers.com. ↩︎
Search by Keyword
Search by day
October 2023
M
T
W
T
F
S
S
1
2
3
4
5
6
7
8
9
10
11
12
13
14
15
16
17
18
19
20
21
22
23
24
25
26
27
28
29
30
31
search by month
Search by Keyword
Search by day
October 2023
M
T
W
T
F
S
S
1
2
3
4
5
6
7
8
9
10
11
12
13
14
15
16
17
18
19
20
21
22
23
24
25
26
27
28
29
30
31
search by month